In some cases, we earn commissions from affiliate links in our posts.
We live in the golden age of television. That's good news for us anime viewers. There are a number of places to stream anime, and new ones seem to keep popping up.
What shows are available on each streaming service changes. I try my best to keep the examples updated, but if you can't find a show on the service listed here, that's why :)
Crunchyroll
Crunchyroll is one of the most popular sites for both anime and manga. They were one of the first anime distributors to launch in the United States back in 2006. They offer over 900 anime shows
Crunchyroll has a huge catalog of anime, most of which you can watch for free with ads. The newest episodes of shows aren't released right away however.
You can join Crunchyroll premium with a 14 day trial, then $7.99 per month. With Crunchroll premium you get what they call 'simulcasts' – meaning episodes of some shows are released right after their Japanese broadcast.
A premium membership also means you can watch all shows ad-free in HD, and read their entire library of manga.
Crunchyroll has an awesome selection of anime, and lets you browse by popularity, alphabetical, and genre. Most of what you'll find on Crunchroll is in Japanese with English subtitled. They do have some popular English dubs like Sword Art Online, and Mobile Suit Gundam: Iron Blooded Orphans.
Here's a list of other anime shows dubbed in English. It's unclear how up to date this list is, or when it's updated.
Some anime currently streaming on Crunchyroll:
Dragon Ball Super
One Piece
Gintama
How Can You Stream Anime on Crunchyroll?
Crunchyroll can be streamed through a computer browser, but they also have apps for:
Roku
Xbox
Playstation
Apple iOS
Android
Apple TV
Fire TV
Wii U
Chromecast
If you enjoy subtitled anime, and watching episodes as they're released in Japan, Crunchyroll is a great choice.
Hulu
Hulu is a well known streaming service of course. They offer a variety of shows and movies in all genres in addition to original programming.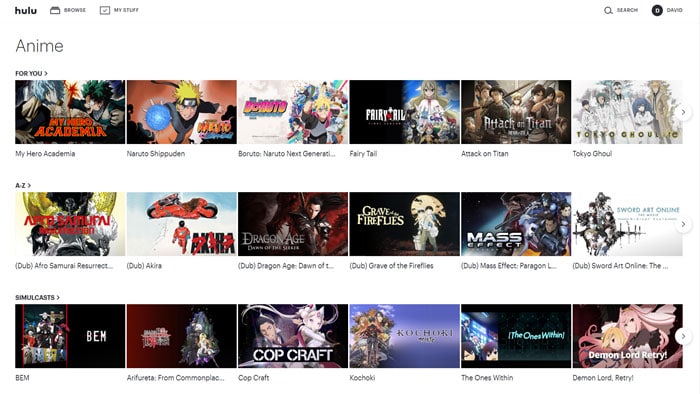 Hulu has a nice selection of anime, including popular shows like Attack on Titan, One Punch Man, and My Hero Academia. They signed a partnership with Funimation in 2018, so you get a number of Funimation's biggest shows.
Like Crunchyroll, Hulu offers simulcasts so you can watch the latest episodes after they air in Japan.
Hulu will offer suggestions based on what you've watched. You can also browse by dubbed, simulcast, and rotating collections like 'Anime Essentials'. When you click on a show, you'll see a link labeled 'You May Also Like' which is good for discovering shows you've never considered watching.
Hulu Cost
Hulu is free for the first month, then $5.99 per month with ads/commercials or $11.99/month ad free.
Some anime currently streaming on Hulu:
Code Geass
One Punch Man
JoJo's Bizarre Adventure
How Can You Stream Anime on Hulu?
Hulu can be streamed through any computer browser, but they also have apps for:
Android
Apple TV
Chromecast
iOS
Certain smart TV's
Nintendo Switch
Playstation
Roku
Xbox
I think Hulu is a great choice for anime fans. They have a great selection of shows and movies. Things are organized well, and categorized correctly. The addition of simulcasts rounds out an impressive offering.
Funimation
Funimation is another huge player in the anime space. They have a huge catalog of streaming shows and movies available. They offer simulcast, and dubbed episodes come out relatively fast after release.
Funimation offers a number of ways to search and discover anime. You can browse by new releases, recommended, trending, moods, genres, simuldub, and 'guides' which are curated playlists.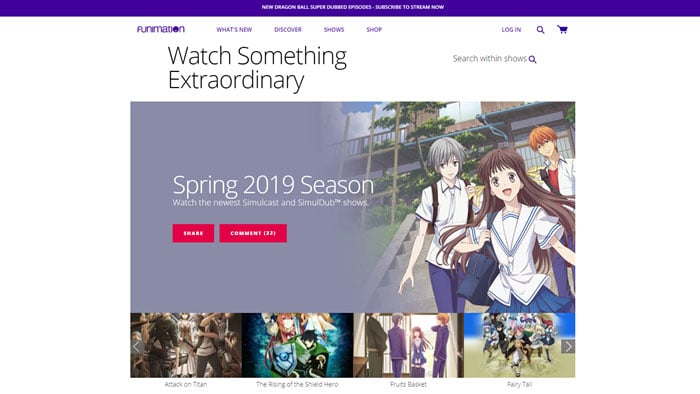 Some of the more popular shows in their streaming catalog include Fruits Basket, That Time I Got Reincarnated as a Slime, Your Name, and Cowboy Bebop to name just a few.
Funimation Cost
Funimation Plus is $7.99 per month and includes ad-free streaming, download and watch offline on iOS and Android, and free shipping on orders over $20 in their store where you can buy all things anime.
Some anime currently streaming on Funimation:
My Hero Academia
Steins;Gate
Attack on Titan
That Time I got Reincarnated as a Slime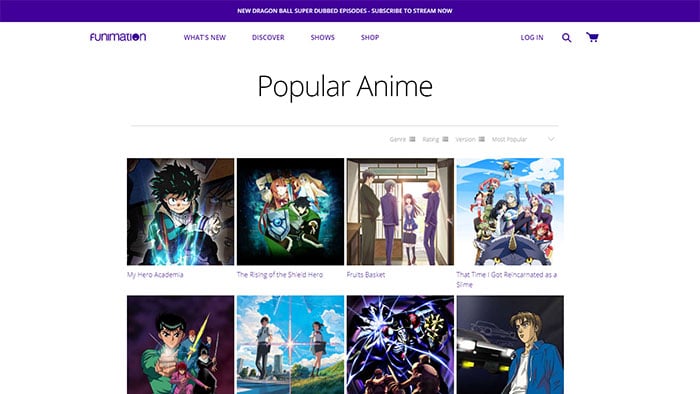 How Can You Stream Anime on Funimation?
Funimation can be streamed through any computer browser, but they also have apps for:
Roku
iOS
Android
Xbox
Playstation
Chromecast
Amazon Fire TV
Apple TV
Samsung
Funimation is highly recommended. They have a huge selection of streaming entertainment and well thought out interface.
Netflix
Netflix has been investing a lot in original content over the last several years. In addition to original mainstream shows, they've developed a number of "original" shows in addition to their licensed offerings.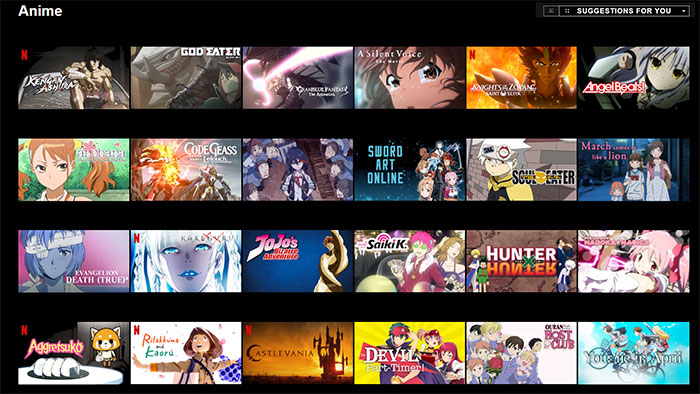 Note that Netflix uses the tag 'original' to include anime they've developed, and also anime they obtained exclusive distribution rights outside of Japan.
Some of the popular original Netflix anime include:
Devilman Crybaby
Aggretsuko
B: The Beginning
A.I.C.O. – Incarnation-
Fate/Apocrypha
Violet Evergarden
Children of Whales
That's just a sampling of what they offer. In addition to original anime, they stream a wide variety of non-exclusive anime as well.
Netflix original anime has become popular with fans and critics alike. It's great to see a streaming service like Netflix making big investments in their anime offerings.
Netflix Cost
Netflix plans start at $8.99 for basic, $12.99 for standard, and $15.99 for premium. On the basic plan, you can only stream on one screen at a time and not in HD. The standard and premium plans allow you to stream in HD and on more screens simultaneously.
There are a couple of Netflix tricks worth knowing
Use 'secret' Netflix category codes for specific anime
Netflix has a lot of titles, but they show you options based on what they think you might like to watch. It's kind of crazy, but Netflix has more than 76,000 categories of TV show and movies in their library. The best way to browse those specific categories is with Netflix's category codes.
Take a look at this Netflix link: https://www.netflix.com/browse/genre/7424 the end of it, '7424' is the category code. Changing that number brings up one of the 76,000 categories. Thankfully, people have done the hard work for us.
Here are the Netflix anime category codes you can use:
Main Anime Category
Anime Sci-Fi
Horror Anime
Anime Features
Anime Series
Anime Fantasy
Anime Dramas
Anime Comedies
Anime Action
Download Anime for Offline Viewing
This one comes in handy if you'll be offline for a while. On Android, iOS, and Windows you can download episodes to watch offline. Not every show is available to download however.
Although everyone likes to complain when Netflix raises subscription prices (including me), I enjoy their original offerings and appreciate the fact they're investing so heavily in anime.
How Can You Stream Anime on Netflix?
Netflix has apps for:
Roku
Apple TV
Fire TV
Most Game Consoles
Android
iOS
Certain Smart TV's
VRV
VRV is a bit different from the other services listed. It combines multiple streaming services and channels including Crunchyroll, HIDIVE, RoosterTeeth, Cartoon Hangover, CuriosityStream, NickSplat, Mondo Media, and Boomerang.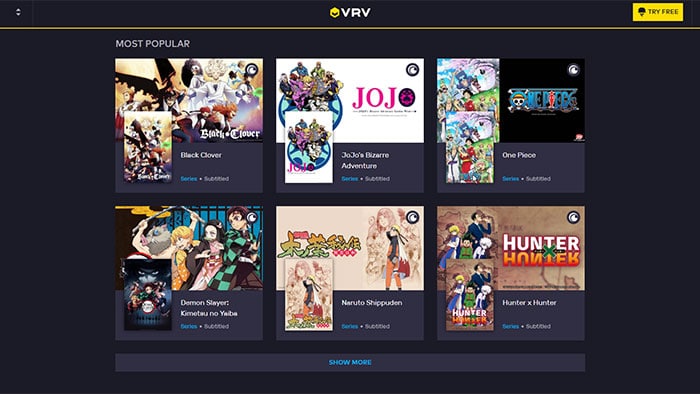 Right now VRV is only available in the US.
You can do a 30-Day free trial of VRV, then the cost is $9.99+tax/mo for Premium to watch ad-free. There's also a free subscription where you can watch with ads.
Does that mean you should subscribe to VRV instead of Crunchyroll? There doesn't seem to be much downside. If you sign up for VRV Premium, you can link it to Crunchyroll and enjoy a premium account there as well, so you only have to pay for the one service. By doing that, you also get premium access to Crunchyroll's Manga offerings.
We known Crunchyroll has a huge catalog, but what about the other channels? It really depends on what you want to watch. There is a lot of overlap with other services, and some of the channels you get aren't anime related.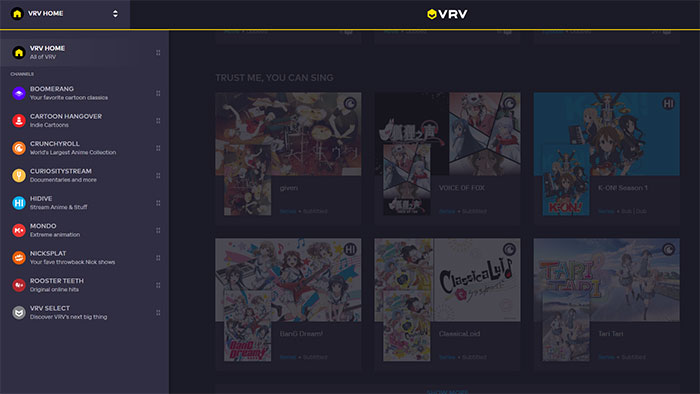 If you're going to subscribe to Crunchyroll anyway, you might as well do it through VRV just to give yourself more options. It's a great deal at $9.99
You can stream VRV through a computer browser and:
Android
iOS
Xbox One
PS4
Roku
Android TV
Apple TV
Fire TV
Amazon Prime
Amazon isn't my favorite place to watch anime, but it occasionally has stuff I can't find on other services.
A good number of anime shows and movies are available to stream free with a Prime membership.
Amazon Prime Cost
Amazon Prime costs $119/year or $59/year for a Prime Student membership. You've probably heard of Amazon Prime, but it comes with benefits like free 1, 2 or same day shipping, music streaming, free Twitch subscription, Kindle book rentals, and of course ad-free video streaming.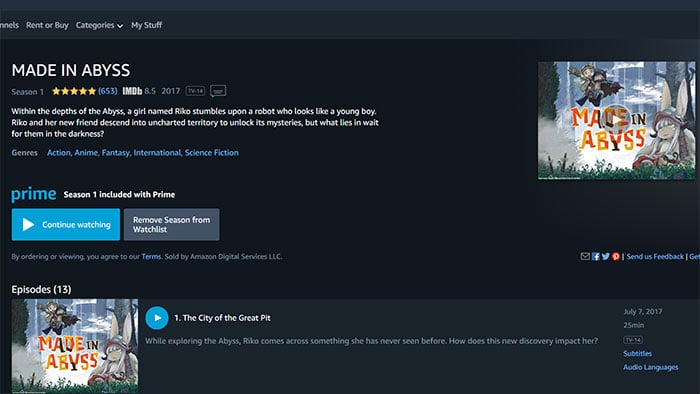 Some shows aren't part of prime, meaning you would need to buy them by the episode or season.
Amazon's anime could be organized better. It's difficult to browse and discover shows. If you know exactly what you're looking for, it works good.
Some anime currently streaming on Amazon Prime:
Vinland Saga
Made In Abyss
Kabaneri of the Iron Fortress
Inuyashiki Last Hero
How Can You Stream Anime on Amazon Prime?
Anime on Amazon can be streamed through a computer browser, but they also have apps for most of the popular media devices including:
Android
iOS
Roku
Xbox
Playstation
Wii
I definitely keep Amazon Prime on the list of streaming services I check. Sometimes it will be the only place I can find a show. Then of course, there are some shows that aren't streaming anywhere but you can still order the DVD from Amazon.
HIDIVE
HIDIVE has some episodes available to watch for free, but you'll need a subscription to watch most of them.
You can get HIDIVE as part of your VRV subscription.
A standalone HIDIVE subscription costs $4.99 monthly or $47.99 per year.
The selection of anime is decent, and they cater to fans who like dubbed episodes. You can filter any category or genre by dubbed, which is a nice feature.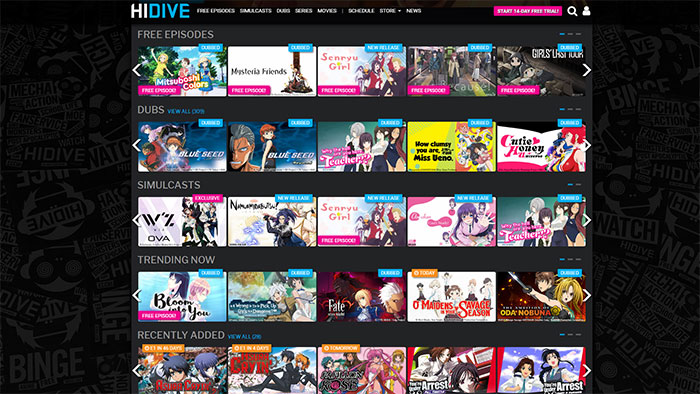 Although they don't have a lot of the most popular titles, the selection is good and you can find some lesser know but great shows.
How Can You Stream Anime from Tubi TV?
Chromecast
Android
iOS
Xbox One
Fire TV
Android TV
Apple TV
Fire Tablet
Roku
VRV
Some anime currently streaming on HIDIVE:
Food Wars
Is it Wrong to Try to Pick Up Girls in A Dungeon?
Legend of the Galactic Heroes
Tubi TV
Tubi TV doesn't have the largest selection, but they have a number of the most popular shows, including all episodes of Bleach, and some hidden gems.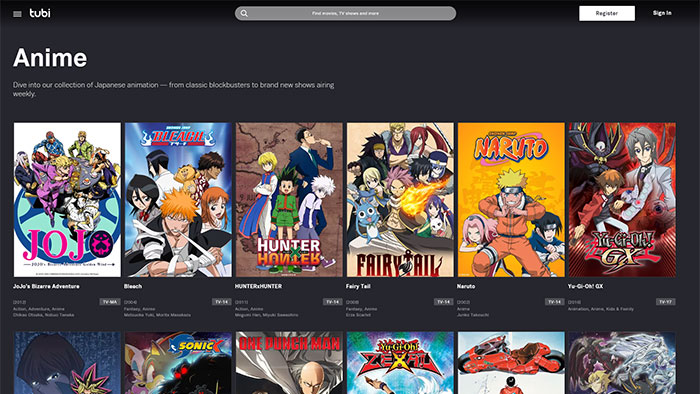 Tubi TV is free to watch, but ad-supported. They seem to be a bit aggressive with the ads, which is probably the biggest downside.
How Can You Stream Anime from Tubi TV?
Tubi TV has apps for:
iOS
Android
Roku
Amazon Fire
Some anime currently streaming on Tubi TV:
---
That should give you plenty of great anime to watch! Where are your favorite sites to stream?
[cp_popup display="inline" style_id="252″ step_id = "1"][/cp_popup]